Blogging for Businesses: Overcoming the 3 Biggest Challenges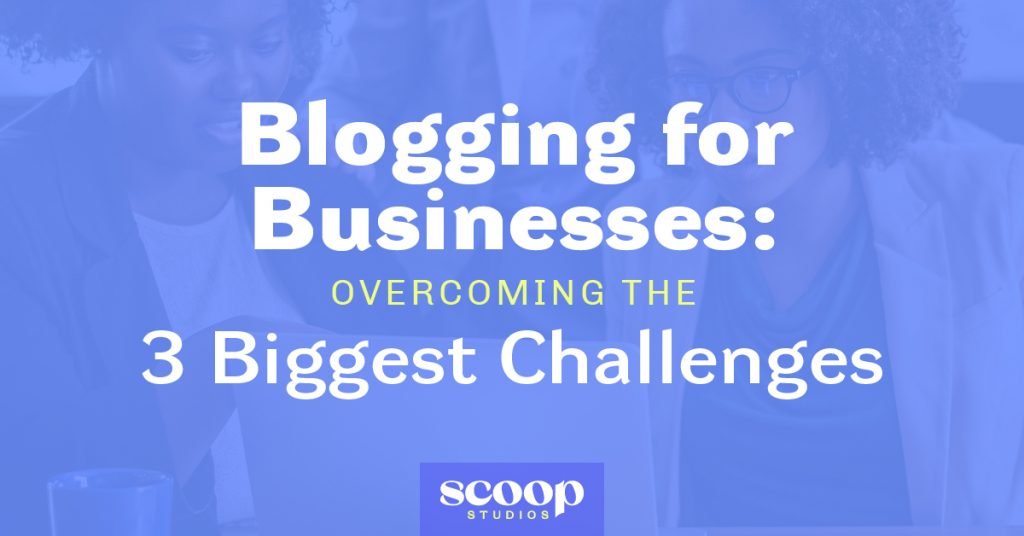 As a content creator, marketing manager, or business owner, you know exactly how challenging it can be to get quality content created and published week in, week out. When it comes to blogging for businesses, the  blog is just one more thing on your marketing to-do list. 
Especially as the blog itself is not your business. It's a channel on which to attract and help convert potential clients, but you've got a lot of other things on your plate to deal with on a daily basis.
If you or your team struggle with your blog, you're in good company. In my day-to-day interactions with clients and potential clients, there are three key blogging challenges I constantly hear about: knowing what to blog about, being consistent with content, and getting people to read their content.
Challenge #1: Knowing What to Blog About
It's pretty hard to create blog content blog when you don't have a clear plan.
A content strategy is essentially the GPS for all of the content you create — including blog posts — and it helps ensure you're creating content that will serve your audience and support your overall marketing, sales, and business goals.
As part of the content strategy, you need to get into the heads of your buyer personas so that you know what type of content they need to read on your blog. Typically, your blog content is at the awareness stage of the customer journey, so your blog content needs to help the reader identify the problem they're having.
Using your buyer personas, you can determine the main themes of your blog (ideally between three and five) so that there's a clear container and mandate for the content you create.

This approach helps to avoid situations where blog content is created because someone on the team had an irrelevant, random idea, content that's simply incompatible with the state the customer is currently in, or you just need a post written for this week. This is a common issue when blogging for businesses, so getting everything documented will help avoid creating content that doesn't support specific goals. 
Once you've fleshed out your blog's content themes, it becomes much easier to come up with topics that fill a real need for your potential customers. You want to create content they WANT to read, and that will help them find your company, product, or service in the first place. After all, the goal of your content is to help move your readers to the next stage in the customer journey.
If the idea of a complete content strategy seems overwhelming, start by picking three key themes that you'll explore on your blog that align with your business goals and buyer personas. Then, you can figure out potential blog post topics based on those themes.
Challenge #2: Being Consistent with Blogging
There are a million and one reasons why it can be so challenging to consistently create quality blog content. Many times, while we have good intentions for the blog, we're swamped with everything else and then creating or publishing content ends up last on our list.
In my 10+ years of working on blogs for corporate clients, small businesses, and my own businesses, consistency has proven to be one of the biggest determining factors of success.
Why? Consistency with your blog helps to:
Breed trust with potential customers who are just discovering your company.
Enable your company to be seen and attract new potential customers.
Create a valuable touchpoint with your existing customers.
But let's make this practical. You know consistency matters, but how do you translate that into action?
It's all about systems. The more guesswork you can take out of the blogging process, the more likely you'll be consistent.
In terms of systems for your blog, start with having a game plan for your planning process and your editorial calendar maintenance. If you blog multiple times per week, this should likely be a monthly process, while if you blog weekly (or less) this can be done on a quarterly basis.
Next, you'll want to have a documented system for everything that needs to happen every time to research, write, edit, finalize, and publish a blog post. As part of this process, document what tools you use, who's responsible for what links to relevant templates and so on so your blogging runs efficiently.
This system frees up valuable time so that the focus is on getting the content created and published versus managing the process week after week.
Also, as you work on these systems to ensure consistency, you may find that you have gaps on your team or simply need help executing on your blogging plan.

That's where hiring a freelancer or content marketing agency can really help. I may be biased as the owner of an agency that does exactly that, but having subject matter experts you trust to execute on the vision for the blog can help ensure you're consistent and free up your team for strategic marketing activities. After blogging for businesses for over 10 years, we have proven systems that let you focus elsewhere. 
Challenge #3: Getting People to Read Blog Content
 Blogging for businesses is dramatically different. The content you create has a very specific purpose — to support business goals. To do that you need people to actually be reading the blog content.
The challenge of getting your content read is a two-parter: First, they need to find your blog post, and then they need to read it.
In terms of getting your content "found," the days of simply building a blog and watching traffic magically roll in are long gone. Your blog content needs to be crafted in a way that helps attract readers, makes people want to click on your social media posts and has people finding it organically through search.
The blogging process shouldn't just stop at publishing but include key steps to help reach more people with your content. Promotion of your content is key, and it's definitely the missing piece of the puzzle for many business blogs. And when I say promotion, I don't mean one Facebook post, I mean having a complete strategy for every post and getting it in front of as many people as possible.
When creating blog content, search engine optimization (SEO) should be carefully considered, and ideally, keyword research should be conducted in advance so that the search terms are used in the title, post, and meta description. Many times, a little bit of research can make a massive difference as subtle variances in keyword selection will impact if that post is found by readers via Google or not.
Once the post is published, there needs to be a complete plan for what platforms the content is shared on, if it's shared via email and so on. Don't make the common blogging for business mistake of sharing a post once and then assuming it's been seen. Your audience is increasingly distracted, and you'll need ways to capture their attention so they read the post.
The second part of the puzzle for your blog posts is creating content that people want to read. We've touched on buyer personas earlier in this post, but it's worth repeating that the more we know about our customers and what they want from us, the more likely they'll be to consume our content.
Beyond aligning the content with buyer personas, pay attention to the readability and quality of your posts. You can have amazing content, but if it's hard to consume, readers won't stick with it and instead be on their way to checking out the newest cat meme. You can make your content easier to consume by using subheads, bullets, short paragraphs, and cutting the jargon.
Proactively addressing each of these challenges helps ensure your blog is a strategic asset for your marketing — not just a work project that sucks up valuable time and energy.
Blogging for Businesses: Is It Time to Get Help?
If you're struggling with any of these challenges, the Scoop Studios team can help. You can learn more about our services, and request a content strategy and blogging consult call here.