How to Build Your Brand Authority with Content Marketing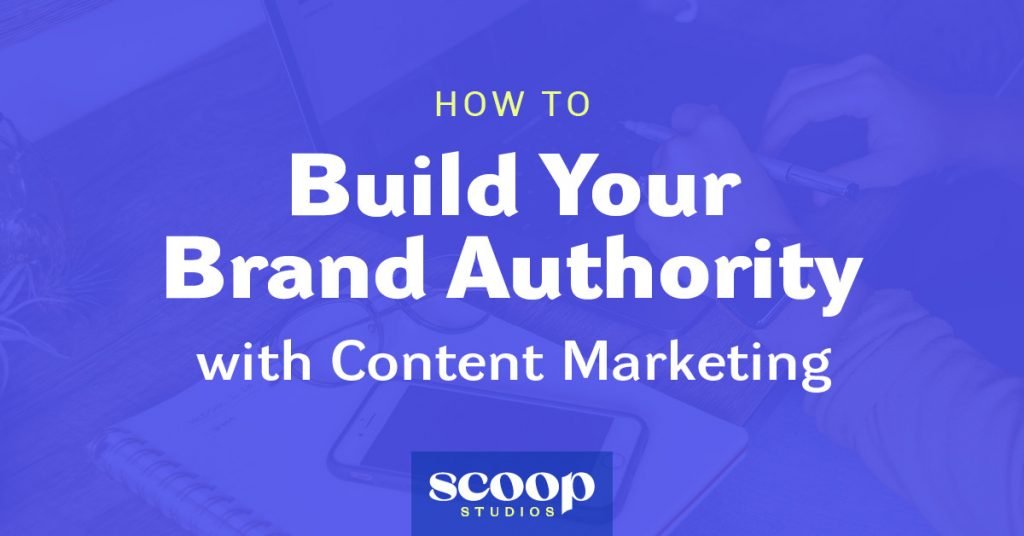 In the early days of online marketing, the frequently given expert advice was to "build it and they will come". The idea being that if you build a large audience with your content, the sales and success of your company would soon follow. However, this doesn't account for whether you're building your brand authority using content that reinforces the know, like and trust factor for your company.
Heading into 2022, that advice simply doesn't hold up. While content marketing gives your company a platform to showcase knowledge, expertise and authority, competition can be fierce.

To stand out, your content marketing must focus on the specific needs of both your prospects and customers in order to create trust and loyalty. 

If you're not convinced, in the Content Marketing Institute's B2B Content Marketing 2022 Report, 88% of the top-performing content marketers indicated that they've used their content marketing to increase customer loyalty. Additionally, 80% consistently prioritize their customers' need for information over their promotional or sales messaging.

Read on to learn how you can build your brand authority with the content your company creates. 
What's Authority-Building Content?
Authority-building content is a means to build trust with your potential and current customers. The goal of your content creation is to showcase the expertise within your company while providing potential and current customers with helpful and practical advice.
You want potential and current customers to see your brand as an industry leader, so that when they have questions or need products and services, your company is the first one they think of.
As your brand authority grows, so does the trust consumers have in your business. That increased trust can have a positive impact on your business, including:
Improved conversion rates on marketing campaigns.
Greater sales efficiency as leads are pre-qualified.
Enhanced brand loyalty resulting in repeat business.
There's no one specific type of content that has to be used to build authority — blogging, case studies, whitepapers, email, social media posts and more can all be part of your content marketing strategy.
Six Tips for Building Your Brand Authority with Content
An important factor in creating brand authority with your content is producing pieces that bolster confidence and build trust with those consuming it. Here are six tips to help you:
1. Consistency is King
Before you even get started with creating content to increase your brand authority, it's critical that you know you're going to have to show up consistently.

If you want to become a trusted source of information, your current and potential customers need to know they can count on you to be there. That means publishing content on a regular basis so they can associate your company with positive feelings.
2. Have a Point of View
Consider how you can bring a different point of view to the table. Brand authority is built by having a clear opinion and not saying the same thing as everyone else in your market.

Think about common topics discussed in your industry, and look for ways to put a new twist on something that may have already been done to death.
3. Teach, Don't Sell
When creating content to build your brand authority, you're in the role of teacher. You want to consistently demonstrate that you're leaders and subject matter experts. What topics can you discuss that showcase that expertise? You want to educate and inform, not constantly sell.
4. Understand Your Customer Journey
When building authority with your content, it's also critical to meet your audience where they are in terms of their level of knowledge. A massive, yet common, content marketing mistake is not understanding the needs of the audience at each stage of the customer journey.

The information needed by a prospect at the top of the funnel who's just discovered your product or service is very different than one who's ready to make a purchasing decision at the bottom of the funnel. The key is creating content that both builds your brand authority and is aligned with the customer's state of awareness about your offerings at each stage of the journey.
5. Skip the Jargon
Regardless of what industry you work in, there's a big difference between demonstrating brand authority and writing in a way that's potentially confusing or worse yet, condescending to your audience.

Even for more technical content, keep in mind you're trying to get people to know, like and most of all, trust your company. That doesn't happen through using a lot of jargon or trying to be seen as smart. Instead, it happens by writing in a way that's clear, concise and meeting your reader where they are.
6. Back Up Your Claims
Another thing to consider when building brand authority with your audience is how you can back up your claims. Showing relevant statistics, images and data from reputable sources that support your content adds another layer of credibility to what you're saying, and also provides readers an opportunity to explore more information that can further educate them.
Ideas for Creating Content that Builds Brand Authority
Your company likely already has a blog (and if it doesn't, it's time to get going!), so this is a great place to start looking for opportunities to change up what you're doing so you can build greater brand authority.
First, consider what you, or other experts within your business, can specifically own in terms of blog topics. Then, look at your existing content as there may be an opportunity to build on what you already have by:
Adding research or other content to an existing post.
Turning existing content such as a whitepaper into a blog post.
Using case studies on the blog to share customer stories.
Looking at your more popular posts and consider turning them into a series.
Considering how to incorporate other types of content such as a blog or podcast.
Finally, an added benefit of authority-building content is how it can help you improve how each piece of content ranks in search. Google looks at each piece of content to determine the quality using what's called the EAT score.

EAT stands for expertise, authority and trustworthiness and Google looks for specific attribute in calculating that score:
Expertise considers whether the content displays a high level of knowledge or skills in a particular field or industry.
Authority considers the accuracy of information and whether the originator of the content can be trusted.
Trustworthiness considers whether the website or content creator has a positive reputation. This is particularly important for any websites that accept customer payments.
Get Started: Keep it Simple
Like anything else you do with your marketing, having a strategy for how you plan to create and promote content that establishes brand authority is key. Starting by creating all new content may not be a realistic goal, so start by looking for opportunities to expand on the content that's already been created.
By dedicating time and effort to content that focuses on brand authority, your company will be best positioned to be seen as a leader in your field, and establish relationships with potential and current customers based on their knowing, liking and trusting your brand.
Need help with your content marketing strategy or your content production for 2021? The Scoop team can help. Click here to learn more about how we can work together.