How to Promote Your Blog Posts and Get More Readers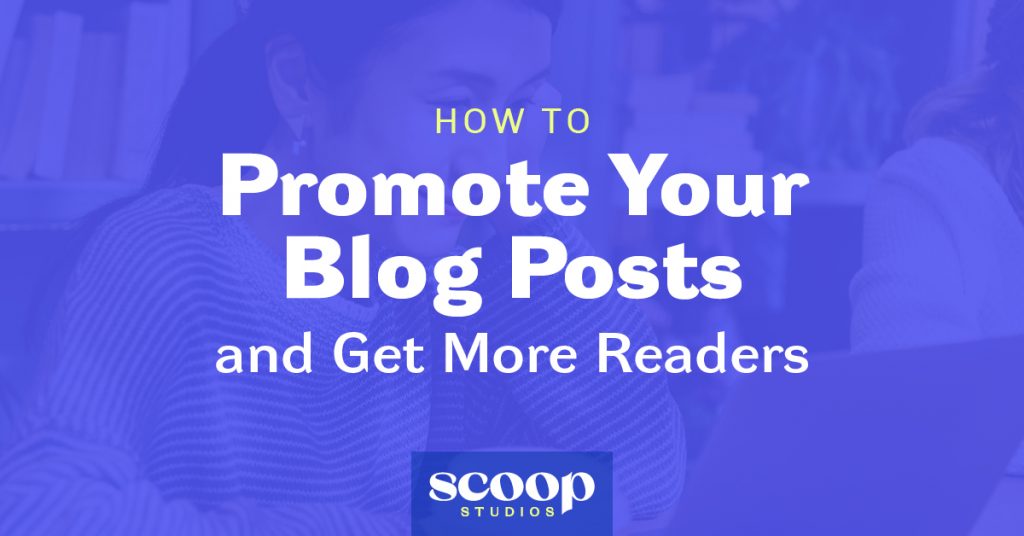 If you're publishing with any frequency on your company's blog, you know exactly how challenging it can be to get eyeballs on that content. Yes, you need to create content that people want to read and that adds value, but you also need a strategy for how to promote your blog posts to get more readers.
With blogging, so much focus is put on the process of writing and publishing content that promotion gets overlooked. Your content promotion is as, if not more important, than your content creation. 
While you're furiously planning your content marketing and blog editorial calendar, you should also be designing a promotional plan to go with every single blog post. The goal should be to get your share-worthy content in front of wider audiences.
To help you do that, let's break down how to promote your blog posts from the day of publishing and beyond:
Publishing Day
Your post is published, so now what? The question you need to answer here is how do you get people to your post and connect with YOUR audience so your content is found, read, and shared.
The key is to figure out where your ideal audience can be found. Promoting to a bunch of places with wrong-for-you readers isn't going to do much to get eyeballs on your content — and ultimately leads — for your product or service.
Start by cultivating a list of places to promote your post based on where you know your ideal audience is. Then, create a checklist so that once you publish, you know exactly where to share your new post.
What should you include on your list? That will depend on your target audience, but here are a few suggestions:
Social media platforms

Craft a series of social media posts with a scroll-stopping featured image.
Tag any expert sources you refer to in your post on social media sites.
Share in a Facebook group or online communities you're part of. 
Promote via an ad on Facebook, Instagram, or LinkedIn.

Reach out to influencers via outreach emails or direct messages if you have relevant content.
Send the blog link to your email list or share content in your next customer newsletter.
Submit it to Scoop.it or Reddit, or other relevant onlinforums. 
Answer questions with your post on Quora.
Also, ensure you have a social sharing button on your blog for each of your platforms so your readers can help you promote. 
This is by no means an exhaustive list of marketing strategies for your blog, but it's a good place to start. The key is that you work the plan, and there's time set aside for members of your team to promote that post in the coming days.
The Week After Publishing
Extend the life of your content by ensuring you continue to promote your post the week after you publish.
The big one is continuing to share it on your social network with new updates, images and more. Don't assume that because you had two tweets and a LinkedIn update about the post that everyone saw it.
Most social media channels move quickly, so your content likely isn't being seen by even a fraction of your total possible audience. You may have a loyal audience and active community, but no everyone is on every platform all the time, and it may not appear in their news feed for a variety of reasons. 
Track and measure your social shares so you know what content may have traction, and what may have not had enough eyeballs on it. Look at your email marketing tools and find out how the blog post performed by email. This data, such as your social engagement rates, you can help you ensure you're creating the type of content that gets engagement and ultimately, results. 
Beyond your social media network, this is a good time to consider republishing the content in other places such as Medium or even using content syndication to feature it on other websites in your industry. Many sites enable you to publish guest posts as long as it's valuable and not promotional in nature.
Look for ways to get creative with your promotion. Maybe your blog post can be turned into visual content like an infographic or slideshow to be posted on Slideshare, a live video stream on your company's Facebook or LinkedIn page, or email content to send to your prospects.
Assess if you can showcase your content via Facebook ads or other paid channels. This is a low-stakes way to build audiences for your content via social media channels at the top of the funnel. 
The key is to get creative and continue to share this content over and over again, so it doesn't lose momentum. Remember, your blog audience is only one part of your overall audience, so don't assume everyone has seen your post. 
Weeks and Months to Come
If you're publishing weekly, it's easy to create a seven-day promotion cycle and then simply move on to your next post. However, there's so much possibility in each piece of your published content and you need to consider your ongoing promotional strategies. 
Every month, spend time planning your blog promotion tactics in addition to your content, so you can continue to leverage each and every one. Instead of continuously creating more and more awesome content, find ways to take your content and breathe new life into it.
My challenge to you is to take each piece of content and recycle it using at least one of the below ideas:
Repurpose into another format
Turn the post into a podcast episode, audio training, video training or another piece of content you can publish. Remember, you should only be covering a set number of topics and themes, so you will cover the same subject matter more than once.
Alternatively, consider how you can turn it into new short-form content for your social media accounts or compelling visual content. 
Create an ultimate guide
Take all of your posts on a theme and turn them into a piece of opt-in content, such as an "ultimate guide," that subscribers can sign up for. (And once you have their email address, you can followup with additional content to nurture the relationship.)  
Develop cornerstone posts
Create cornerstone content (which search engines love!) by combining old posts into evergreen content that builds your company's authority on a specific theme. Plus, this is a great way to build internal links to your content. 
Reshare old posts
Resurface your posts using a social media tool like EDGAR, Agorapulse, or Recurpost so your best content continues to be seen and shared. (And consider creating new images to go with it, or try using a GIF or something else to engage your audience.)
Dig into your Google Analytics or your analytics tool to identify your most popular blogs, and to understand your blog traffic. Your organic traffic metrics hold the secret to what posts you should be resharing.
Pitch as contributed articles
Take your existing blog post ideas and pitch them as contributed articles from your executives for your industry's publications or websites. Guest blogging can help you get your content in front of larger audiences. 
For contributed content or guest posting, I like to change the headline and intro, but the bulk of the content can be the same. To avoid issues with duplicate content, vary the content format so a long form post becomes a series of list posts and create enough original content that Google recognizes as new content. 
If possible, as you're planning content, give thought to how you'll extend the life of each post you create. Your high-quality content needs to be more than one and done, so taking the time upfront can help you ensure it's seen for weeks and months to come. 
Many of our clients have found it helpful to stop looking at blog posts as individual posts by approaching each one as a complete standalone campaign. This enables you to have systematized content promotion methods so there's a repeatable plan for how to promote your blog posts.
Are you ready to start promoting and not just publishing your posts? Make this a priority and you'll reap the benefits of greater traffic and more of your content being seen. 
If you need a content marketing plan including your blog promotion strategy, let's talk. Scoop Studios is a content production agency that can help you ensure your blog content goes further.