Key Questions to Ask Before You Outsource Your Content Marketing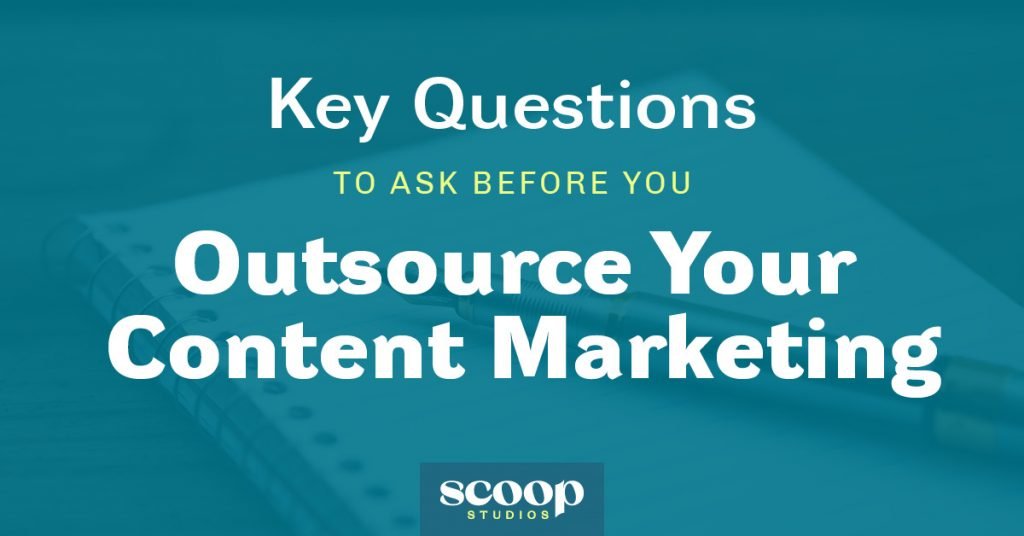 Did you know that in a recent survey of marketers, 50% indicated they outsource their content marketing? While the number of companies looking to outsource continues to rise, if you're looking to outsource your content marketing, there are a lot of factors that should go into that decision.
If there's one thing we've learned about marketing strategies over the last 10 years, it's that content marketing is here to stay. But content marketing demands a different skillset from other marketing activities, and encompasses so much more than writing a few witty lines on social media every now and then.
Great content marketing requires a combination of research and writing skills, creativity, expertise and a strong understanding of what drives people to consume content.
Not every company has a need for someone to fill this kind of role on a full- time basis, and that's exactly why so many companies look to outsource. According to the Content Marketing Institute's (CMI) B2B 2022 Content Marketing Report, outsourcing is most common in larger companies, with 75% of the large companies who responded indicating they outsourced content marketing activity. 
Let's take a look at everything you need to know if you're deciding whether or not to outsource your content marketing.
Why Outsource Your Content Marketing?
While the idea of outsourcing your content marketing may be a bit daunting, it doesn't have to be.
Think of it this way. If your dishwasher isn't getting your dishes clean, you'd hire a plumber or dishwasher repair person because they're the expert. Maybe you could diagnose the problem or possibly even fix it yourself, but you just don't have the time to learn everything you need to know.
Even when you've hired someone to make the fix and invited them into your house, you're still in control. You decide if you just want to replace the water line, make a repair or get a whole new dishwasher.

Your content marketing is the same. You're hiring someone who specializes in what you need, but you get to decide on what work you want done. They'll provide recommendations and guidance, but you have the final say.
Here are the key benefits of choosing to outsource your content marketing.
Free Up Time for Other Priorities
Creating content takes time and effort, and because of this, it's something that's often easy to keep putting on the back burner. Creating a well-written blog post or whitepaper takes hours of your time, and depending on your role, carving out a block of several hours once or twice a week may not be realistic.

And that's not even taking into account that you have to be in a creative headspace to do great writing — and inspiration doesn't always come on a schedule.
Choosing to outsource your content marketing leaves you with the time to focus on the things you do best and leaves the writing to the experts. Our clients who are typically directors or VPs of marketing consistently tell us that having us handle content creation means they're able to focus on overall strategy.
More Effective Strategy
Content marketing that gets results requires a strong strategy behind it. The 2020 CMI report indicated that when looking at the most successful content marketers, 69% had a documented content marketing strategy.

One of the biggest mistakes companies make with content marketing is creating random pieces of content with little thought about the needs of their audience and where they are in the customer journey.

Content marketing without a strategy backing it up is a waste of time. Your audience expects content tailored to their needs, and by having a strategy before you start can ensure your content marketing is valuable to the people you're targeting.
A content marketing agency can support you in creating your overall strategy and provide direction in terms of the type of content you should be producing for your company.
Publish More Content
With the time required for content creation, it's fairly common for companies who are DIY-ing it to focus on doing the bare minimum. The problem being that the minimum isn't anywhere close to enough to provide your potential and current customers with what they need.

It's estimated that 83% of the most successful content marketers use content to nurture leads, their audience and subscribers, demonstrating that it can be highly effective. But what happens when you simply don't have time to create that content?
By choosing to outsource your content marketing, you're immediately creating more bandwidth to increase the volume of work being produced. You'll have the content you need to actually nurture your audience, leads and subscribers on an ongoing basis.
Flexibility and Scalability
We live in a world where things can change quickly, and what seemed like a great topic to write about last week may not be a good fit for today. When you're reliant on a single internal resource to create your content, they may not be able to quickly shift priorities.

In a scenario where something unexpectedly crops up (like the COVID-19 pandemic) and you want to produce some related content, it will be easier to hand it off to someone who's dedicated to your content creation.

Additionally, when you outsource your content marketing, if you have periods where you need large volumes of content created, you can bring in scale up using resources that you'll only need to pay for a finite period of time.
A Fresh Perspective
Having a fresh set of eyes is always a good thing, and when it comes to content marketing, things getting stale is always a possible risk. While you and your team know your brand, you're also married to it in a way that someone outside your organization isn't. Choosing to outsource your content marketing means you're getting both their expertise as content creator and content marketing trends.
Also, outsourcing your content brings a new voice to your brand. Having someone who can approach the same concepts from a different perspective offers your readers a chance to think about things in a new way.
Greater Efficiency
A common issue companies experience with their content marketing is often the "too many cooks in the kitchen" scenario. Someone writes something, then shares it with more people within the company, all of whom have an opinion. Then you're caught in a loop of back and forth comments, edits and more edits, and it takes forever to get a single piece of content across the finish line.
When you outsource your content marketing, you have someone following a process designed to minimize touch points and get your content completed in an efficient manner.

For example, here at Scoop, we have a robust outlining process that helps save our clients time in the review process and helps accelerate approvals. As we focus on content production every single day, we've been able to create efficiencies that save our clients time and gets their content published faster.
Subject Matter Expertise
If your content is going to cover more than one specific niche topic, bringing in someone who has a broader skillset writing on a large variety of topics can be highly beneficial. Both freelance content writers and content marketing agencies will have various areas or industries they specialize in.
Determining if You're Ready to Outsource Your Content Marketing
Now that you know that outsourcing is a viable option for your content marketing, the next thing you need to look at is whether or not you're truly ready.
Here are some key questions you should investigate when determining if it's time to outsource (or not).
#1. Do you have a content marketing strategy? Does it support your broader company goals?
You can have someone produce all the content in the world, but if there's no rhyme or reason to what you're doing, it's unlikely to produce results. If you already have a strategy in place, a freelancer or agency can review it to ensure it's tied to your organizational goals. If you don't have a strategy in place, they can help you create one.
Successful content marketing is about much more than just writing so defining what you want to achieve will ensure your content aligns with other marketing and business priorities.
#2. What are your content marketing needs?
Before you hire a freelancer or an agency, you should have a clearly prioritized list of what your needs are. Content marketing includes blogs, emails, social media, case studies, whitepapers, ebooks and more. Not every freelancer or agency will necessarily handle all types of content.
If you're trying to fill a specific gap, like social media, looking at someone who specializes in that area will likely be abetter fit. But if your needs are broader, outsourcing to a team that offers a full range of services will make more sense.

The better someone knows your brand, the stronger the content they produce will be, so if your content needs are high, you can look to outsource your content marketing to a single agency so you can ensure consistency.
#3. What's your budget?
Pricing for freelance writers and content marketing agencies vary widely. And just because someone has a huge price tag attached that doesn't automatically mean they'll be able to produce content that meets your needs.

Define your budget in advance of deciding to outsource your content marketing, and then do your homework to determine the options available in that range. Also, if you're really not sure where to start with your budget, reach out to some agencies or freelancers that you'd be interested in working with. They should be able to provide you with a budget range to ensure your expectations are aligned with reality.
Finally, if your budget is limited, it's better to focus on quality over quantity.
#4. Does your team have time to devote to your content marketing?
Content creation requires the right combination of strong writing and research skills, inspiration and, most importantly, TIME.

Rushing through the content creation process won't deliver results and if your team is already busy with existing projects, it'll be challenging to give your content the time it needs.

Most likely, your company needs a dedicated resource who can give your content undivided attention. Plus they'll need to create content in a way that meets your strategic goals.
#5. Do you have the right skillset on your team?
Effective content marketing is about far more than just writing. Of course writing skills are critical, but expertise and effective promotion also matter.

While you may have someone available who fits the profile for either writing, expertise or marketing, unless you have specifically hired someone for a content marketing role, you'll likely achieve a much higher degree of efficiency by going outside your organization.
#6. Do you have a preference between a freelancer or agency?
Both freelance writers and agencies have their merits, and depending on your specific needs, one may be a better fit than the other. Because the cost for writers varies greatly, your budget may dictate which direction you choose.

No matter which option you go for, the specialties and experience of the freelancer or agency are what will matter the most.
We recommend starting with a test project for whoever you're considering hiring. Have them write a blog post or some other piece of longer form content so you can assess if they have your brand voice and style nailed down. Of course this should be a paid engagement as it's the ideal way to ensure a mutual fit.
#7. What sort of guidelines or creative direction will you be providing?
Whoever you hire is going to require direction in terms of brand voice, style, audience profile and more. If these aren't things you already have in place when you decide to outsource your content marketing, many content marketing agencies can assist you in developing the guidelines. .
#8. Will your content include any private or proprietary information?
When you decide to outsource, you're going to be letting someone else look "behind the curtain" of your company, so deciding what can and can't be shared is important.

For example, content that's data driven is popular among readers, but to put the data together in a meaningful way may require that you provide your writer with access to internal resources. Content creators should know from the get-go if any information or topics are off limits.
#9. What does the potential freelancer or agency's process look like?
Deciding to outsource your content marketing can take work off your plate, but only if the process they follow meets your needs.

You'll need to know what kind of timelines you want them to deliver within, who will be handing internal reviews and approval, turnaround times, and who will be driving the overall content marketing strategy.
Having this all agreed upon ahead of time means both you and the individual or agency you choose are on the same page.
Ready to Outsource Your Content Marketing? Ask These Questions
Finding the right fit with a freelancer writer or agency is all about asking the right questions. Your content is personal, so ensuring the person you hire connects with your brand is key to getting high quality work that reflects the voice of your company.
Here are a few questions to ask during the discovery process:
What kind of knowledge do they have that relates to your company and industry?
How long have they been a content creator? What experiences and skills do they or their team have?
Can they provide samples of their work?
How does their style fit with your brand?
How can they help you meet your content goals?
Outsource Your Content Marketing by Finding Your Perfect Fit
When you begin your search to outsource your content marketing, bear this in mind: a great freelancer or agency is there to serve the needs of your company.

Look for someone who acts as a trusted partner and is ready to collaborate on how you can take your content marketing to the next level.
Are you considering if your company is ready to outsource your content production? The Scoop team can help. Click here to learn more about how we can work together.