3 Benefits of Case Studies for Your Sales and Marketing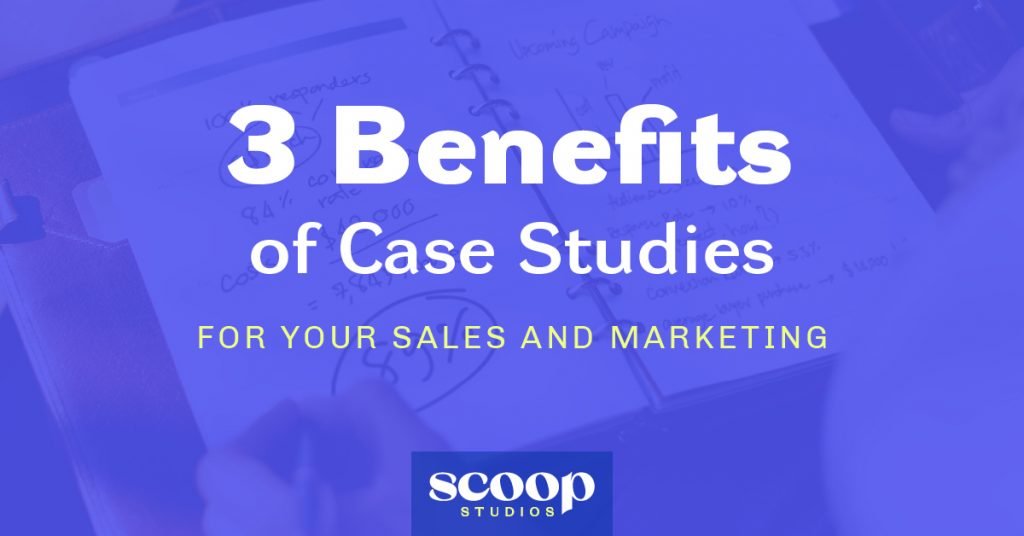 You've probably heard the saying, "facts tell, stories sell." As a marketer, you know the benefits of case studies all too well and are looking for ways to add more stories to your marketing efforts. Or maybe the idea of using stories for your product or service leaves you feeling overwhelmed as it's one more thing on your to-do list.
Either way, stories are one of the most compelling tools you have as a marketer.
There's been a seismic shift where big companies with massive budgets no longer have all the power. Storytelling as part of marketing is now accessible to everyone thanks to the Internet. It's led to a storytelling renaissance where even the smallest companies can use stories to connect with their audience and ultimately, sell more.
Stories Aren't Enough: Information Overload Is Real
Each of us is more connected than ever, with the average adult spending roughly 7 hours a day on the internet. 
As more and more stories are used to get our attention and evoke an emotional response, we're bound to become desensitized to stories.
All of which means simply having a story isn't enough. You need a story that stands out and connects with your audience in a way that makes a lasting impression and helps the reader see themselves in the story.
Here's the hard truth for many marketers: no customer is going to see themselves in a list of features; they need to see the promise and benefits of your product or service in action.
In short, when it comes to storytelling, the focus needs to be on crafting stories that show your potential customers exactly what it's like to work with your company. You want them to see the before and after and be able to see how you can help them accomplish their goals.
Going Beyond the Testimonial
Most companies have testimonials, and there's no arguing that quotes from happy clients are compelling to your prospects.
A testimonial only tells a fraction of the story, and at a certain stage in the buyer's journey, your would-be customer needs more of the story to help them to decide if they should engage further with your company.
This is where a customer success story comes in, as it provides a deep dive into the specific situation faced by your client, their solution, and the end results after working with your company. This level of detail provides your potential client with the power to connect their current challenge with the specific ways your product/service can assist them.
Plus, customer success stories can eliminate ambiguity or save us from making assumptions about the knowledge and understanding of our target audience. (After all, it's easy when you work with a product/service day in, day out to lose sight of how to communicate that your ideas clearly.)
Driving ROI From Your Customer Success Stories
When I'm speaking with B2B companies about their customer case studies, one of the biggest concerns is if their team has the time and know-how needed to conduct effective interviews, create a compelling story, manage the approvals, and then use it to the fullest potential in sales/marketing efforts.
Having been involved in various ways with customer case study programs for the past 20 years, I've learned time and time again exactly how powerful a well-constructed customer success story can be. It can help generate new leads, move prospects further down the funnel, and even be the lynchpin in closing a big deal.
When done right, customer success stories produce tangible ROI while providing much needed "social proof" for your company. The time, money, and energy invested in creating case studies reaps incredible rewards.
Case in point, according to the Content Marketing Institute's 2022 B2B Content Marketing Benchmarks, Budgets and Trends report, 39% of marketers indicated that case studies were their most effective marketing asset in the past year.  While webinars and virutal events took the number one spot at 58%, these are something that will require far more effort in terms of production and promotion than a case study.
Establish Your Plan for Customer Success Stories
The power of customer success stories is clear, and your business can't afford to not be showcasing your customers in this way. Whether you've already been focusing on creating case studies, or you need to start, now is the perfect time to examine your goals around this type of program.
Consider how customer success stories could help enhance your marketing and sales campaigns in the next 12 months. As you do this, get clear on what exactly you'd like to be able to accomplish with the help of your customer stories. Do you want to generate leads? Help your sales team close deals? Consider your case study program with that goal in mind.
From there, I'd encourage you to review exactly where you are today in relation to that goal. Audit what success stories or testimonials you already have, which of your current customers would be ideal for this type of profile, and even which of your products or vertical markets could benefit from having the power of a customer case study bring them to life.
By answering these questions, you'll have started to formulate a plan for your customer success stories. Most importantly, you'll be able to get clear on what actions to take with your customer case studies as part of your marketing programs moving ahead.
Getting started with customer success stories can be easier than you think. Work with a professional team that specializes in creating compelling case studies for B2B companies. We take care of every step of the process so you have high-quality customer success stories that generate leads and support your overall sales and marketing efforts. Click here to learn more.