How to Use Case Studies: 13 Ways to Share Your Customer Stories with Examples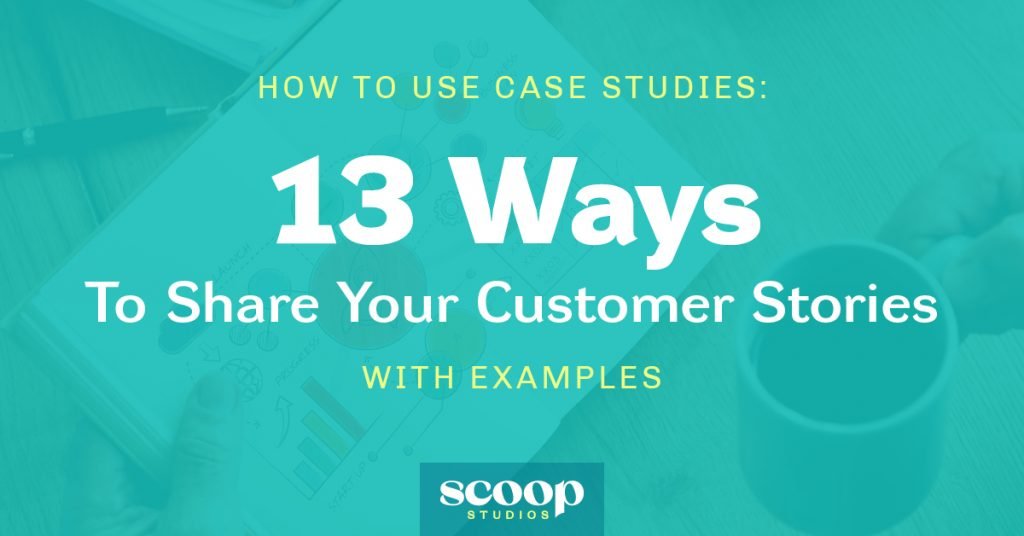 Case studies are a high priority for B2B companies with considerable time, effort, and cost invested in producing these pieces. The potential of customer success stories is often overlooked; the story is completed and then turned into a stunning PDF which gets filed away or buried on the company's website. For case studies to be worth the investment, there needs to a focus on exactly how to use case studies once they're created.
In a world where social proof (aka your testimonials and case studies) is more compelling than a discount on your product or service, making the most of every customer success story you create simply makes good business sense.
It's time to dust off your case studies — or create new ones — and actively find ways to use them more consistently in your sales and marketing.
Here are 13 ways to use your company's customer success stories with examples:
1. Use Case Studies on Your Website
Most companies have a case study or testimonial section on their website, but this is just the start of how you can leverage them. Your website visitors care more about what your customers have to say about your offering than what you have to say about it, so their stories should be integrated throughout your website.
Consider using case studies on your homepage by adding a section to highlight different customer successes. Case studies can also be added to relevant product pages, or even on landing pages, to quickly establish authority.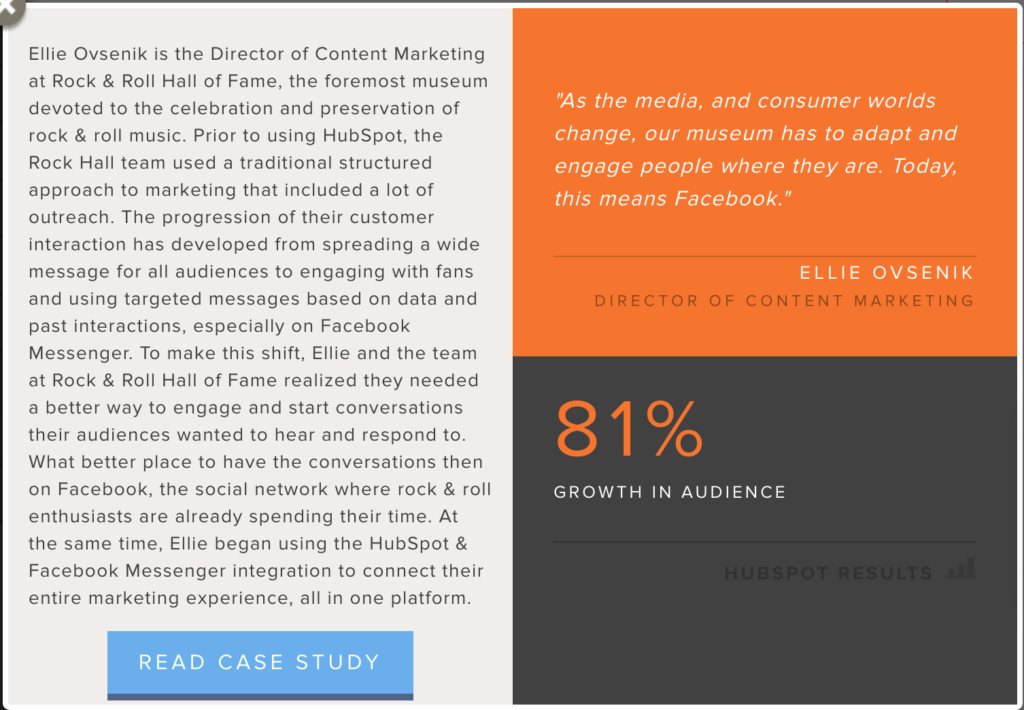 This teaser on the Hubspot website shows exactly how compelling a well-done case study can truly be and makes you want to learn more about their work with the Rock and Roll Hall of Fame.

2. Add to Sales Presentations & Other Sales Collateral
If you've ever sat through a boring sales presentation full of jargon and discussion of features, you know exactly how these presentations would benefit from the use of real-life stories and examples. Stories are what sell, and a customer story is ultimately more compelling and memorable to your potential client than any feature will ever be.
As part of your sales materials, case studies can be used to reinforce the key benefits of your product or service and as a way to paint a picture of what's possible for your prospect. This third party proof will help set your company apart from the competition while increasing potential customers' trust in your claims.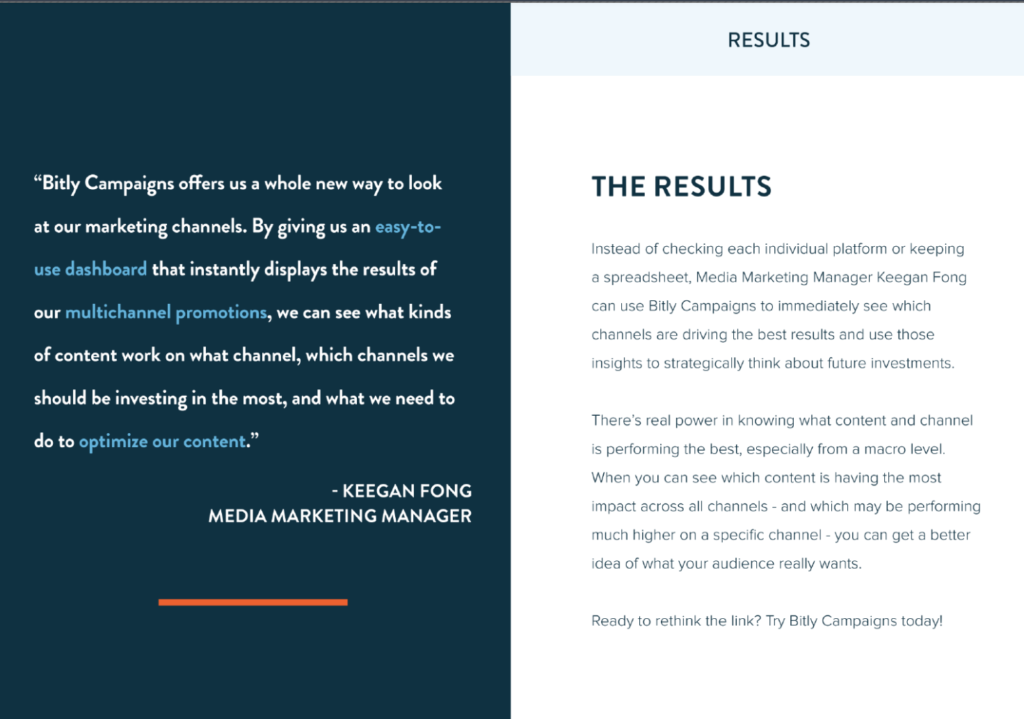 Bit.ly created a presentation sharing the story of and a quote from their client Vissla to showcase how Bit.ly Campaigns can be used.
3. Highlight in Speaking Engagements
Throughout the year, it's likely that your company's executives are on the road speaking at industry events. This type of thought leadership is necessary for B2B companies, but it can benefit from a more modern approach that brings in real-life stories to reinforce your presentation content.
Case studies, or even video clips, can make a great addition to presentations. One of my favorite ways to take this a step further is to co-present a case study with a customer on stage. There's nothing more magical than an audience of your prospective customers hearing about the results one of your customers experienced when working with you.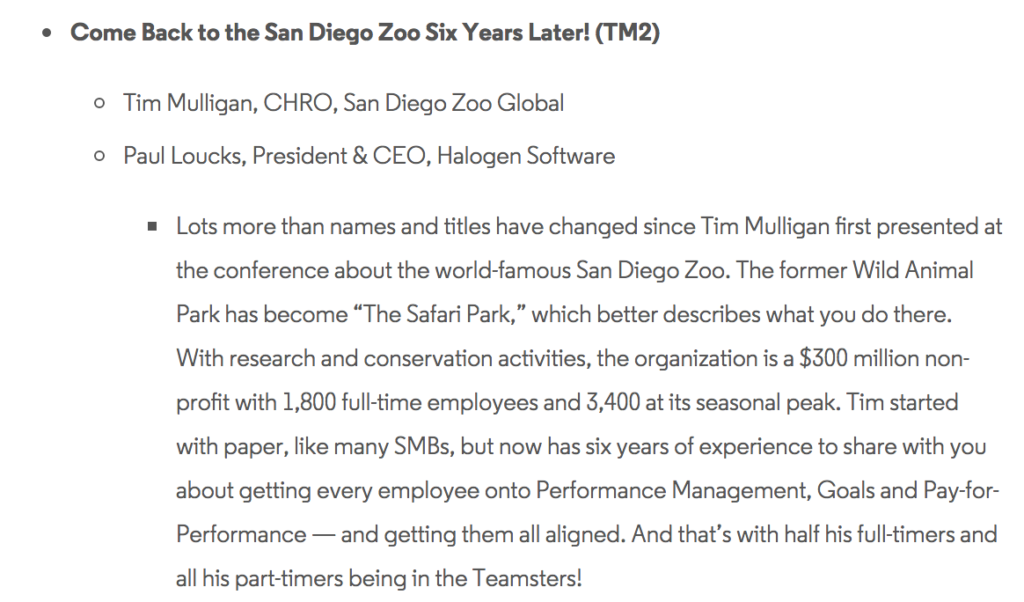 Talent management provider Saba (formerly Halogen Software) teamed up with their client, the San Diego Zoo, for a speaking engagement at an industry trade show, HR Tech. This speaking engagement highlighted both the power of their platform and the story of how the zoo had transformed their employee culture.
4.  Make Webinars Relevant
Webinars usually are a critical part of B2B lead generation, but they don't have to be stale or boring. Injecting customer case studies into your webinars helps bring what you're teaching to life and ensures your content isn't only relevant but timely.
Case studies can be used as examples during the webinar, or you can have your customer join as a co-presenter or guest star. This proof-driven approach can ultimately move your prospects further down the sales funnel faster as they can see your offering has proven results.
5. Share Their Voice with Video Content
If a written case study is compelling, a video with your customer sharing their story is even more powerful. Nothing beats a video in terms of creating trust as viewers can immediately see and hear about the impact of your product or service.
Video content can be used on your website, in presentations, on social media — and pretty much everywhere else — which makes it a worthwhile investment.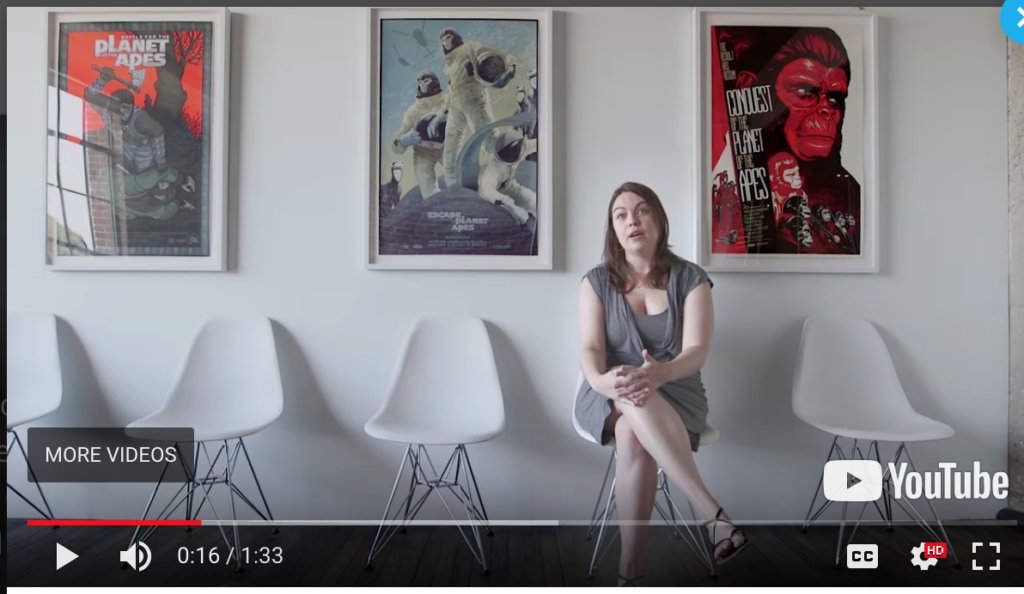 In this example, Hootsuite edited together a number of video clips from customers that they feature on their website's enterprise case study page.
6. Feature in Ad Campaigns
If you're using any type of advertising — online or off — for your business, sharing your customer stories is a must. This tactic is often overlooked, but why not let your happy clients and their stories do the work for you?
With such heavy competition for attention, if you're going to pursue ads as part of your marketing strategy, leveraging customer stories in this way provides you with a means to stand out.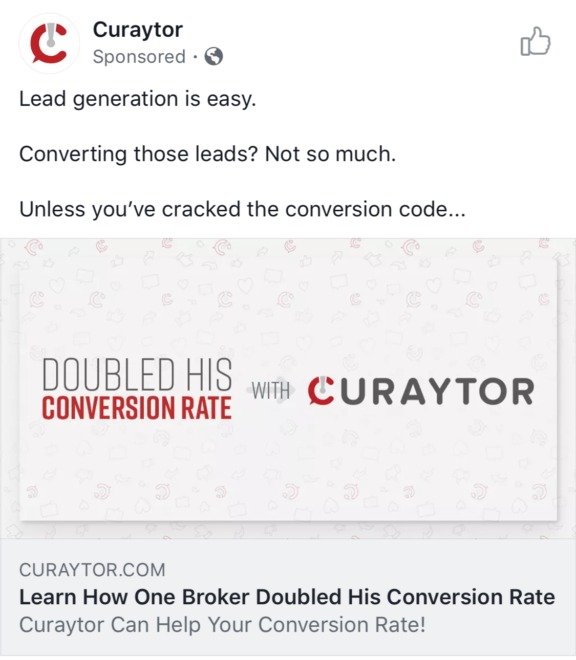 Our client, Curaytor, uses client testimonials pulled from their case studies in their Facebook ad campaigns.
7. Showcase on Social Media
Your B2B company is likely active on a variety of social media platforms and needs content on an ongoing basis. Between your blog posts and promoting lead magnets and opt-ins, highlighting customer success stories can provide a fresh, engaging piece of content on any social media platform.
Every case study has limitless potential for social media including a short story, quotes, a summary of their results, and so much more. All you need is a little creativity and time to tailor your content so it's native to the platform.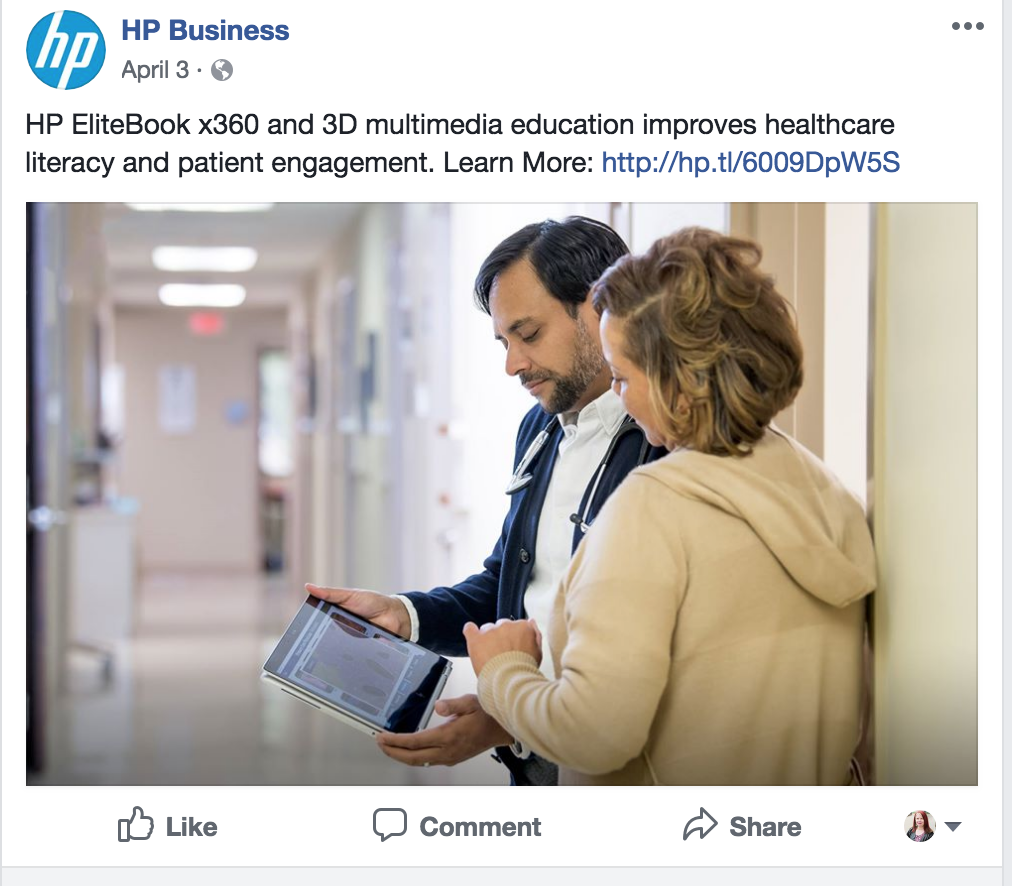 HP Business shares customer stories regularly on their Facebook page to show their products in action.
9. Incorporate Into Email Marketing
Email marketing still has the highest ROI of all of the marketing channels, so it's one of the most important channels on which to share customer stories. For your sales funnels and lead nurturing, including success stories helps bring things to life and provide proof that contributes to prospect knowing, liking, and trusting your company.
Beyond your lead generation efforts and email funnels, your newsletter is a great way to share customer successes to engage more passive leads who are lurking or current customers who may be ready for a new/upgraded product or service. Sharing customer stories in your newsletter could be done as a regular feature or as a special edition to share multiple stories around a specific theme.
9. Create Blog Posts
Unless a potential client is in research mode, they're unlikely to spend time seeking out and reading case studies on your website. To reach a wider audience, turn your case studies into blog posts that provide a compelling story about your offering and a lesson for the reader.
Written case studies can easily be repurposed into blog posts with very little extra effort involved and provide a way to get more eyeballs on each story. (Plus, this makes them great for sharing on social media!)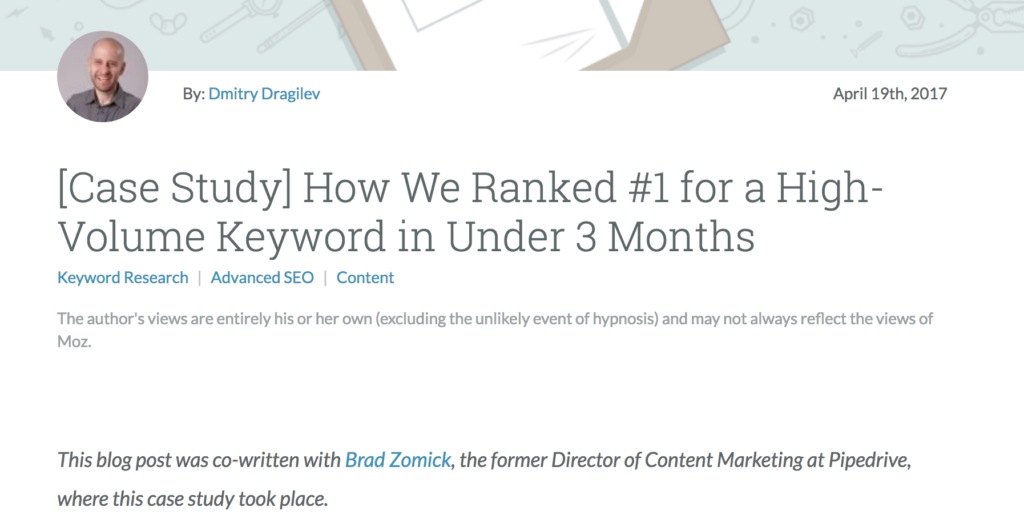 Pipedrive created a results-focused blog post to share results of a campaign they worked on, publishing the results on the popular Moz blog.
10. Bring Whitepapers to Life
It's no secret that while whitepapers are a B2B mainstay, they can be boring. Customer success stories offer a way to make whitepapers more interesting and memorable to your audience.
Whitepapers can be drafted around a series of success stories, to highlight a single customer story, or they can be used throughout any whitepaper content as examples or use cases.
11. Power Up Proposals
If your business relies on proposals to win clients, customer case studies can be a powerful tool to convert potential clients. A case study or a testimonial helps to demonstrate that you can deliver the results you're promising in the proposal.
When including a case study or testimonial in a proposal, ensure you customize the story to the specific situation of your would-be client and to speak to the results you deliver.
12. Communicate Stories with Infographics 

The average case study is about two pages long, and unless someone is already very interested in your product or service, they're unlikely to read it in any detail. Taking success stories and turning them into infographics helps make them more bite-sized and gets the story in front of people who simply wouldn't read the case study.
Infographics can be used on a standalone basis or inserted into any of your other content marketing efforts. Cloud ERP provider Workday created a summary of their case study in the infographic below which provides a bite-sized overview of their work with Netflix.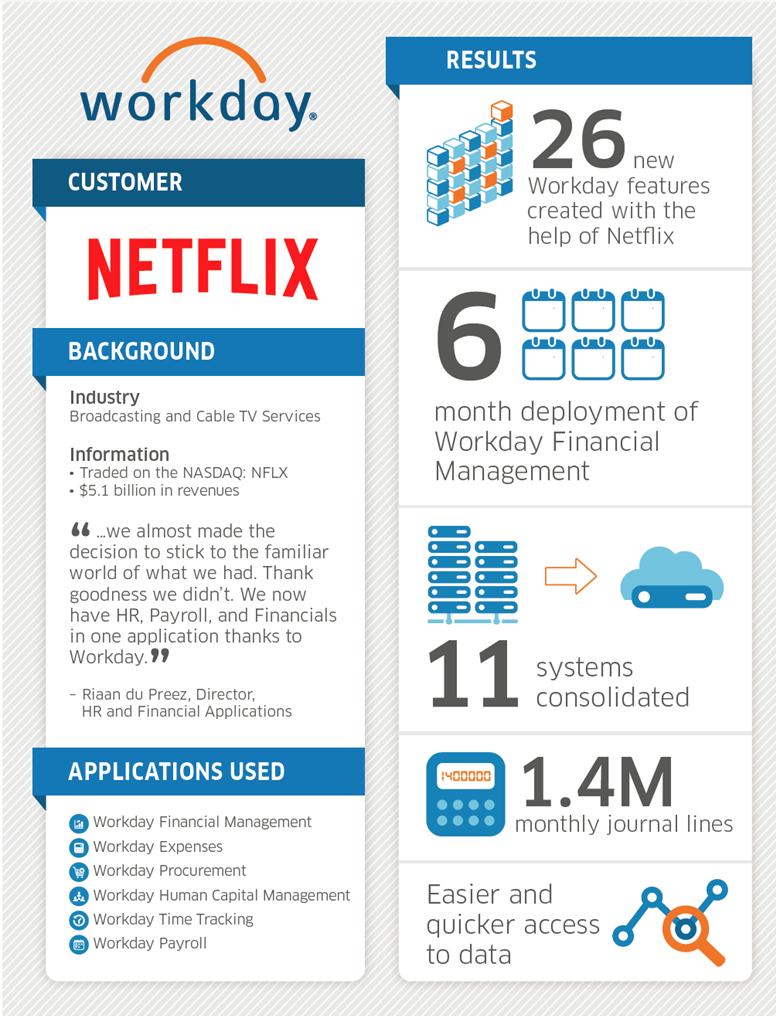 13. Act as Proof for the Media
Sharing customer success stories as part of media appearances or in print media stories is a great way to use social proof to its maximum advantage. Typically, if media are going to write about your company — as well as the product or service — they want sources outside of your company to round out their story.
Another option is to have your customer's success actually be the story for the media. Your customer could speak publicly about the impact your product or service has had on their company and the results they've been able to achieve. Also, when doing media interviews or writing contributed articles, be sure to use customer stories as examples to reinforce what you're talking about.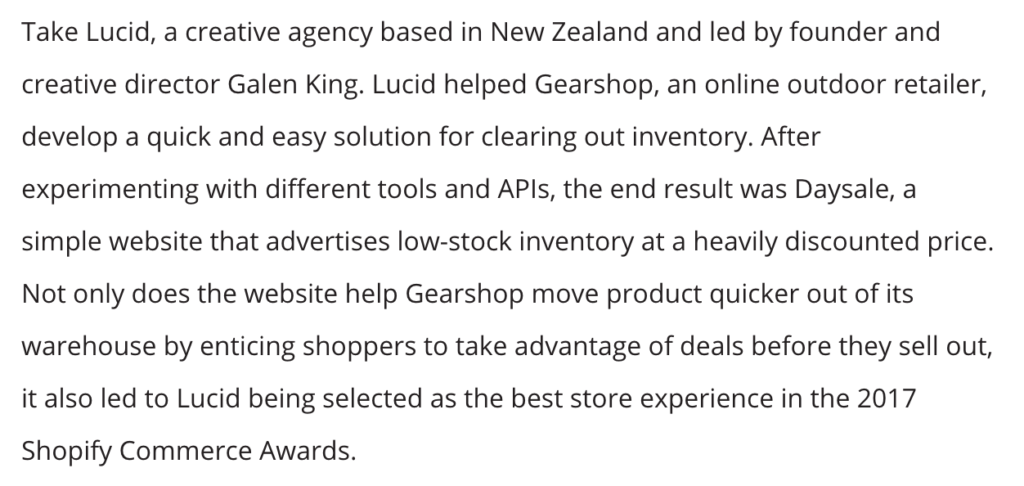 Shopify shared the story of one of their partner agencies in a story featured on VentureBeat, acting as proof for their platform.
Maximize your customer case studies by taking even one or two of the above ideas and putting them into action.
If you need assistance with your customer success stories, we can help you get started. Click here for more information on our case study services.