How to Write a Testimonial (with Examples)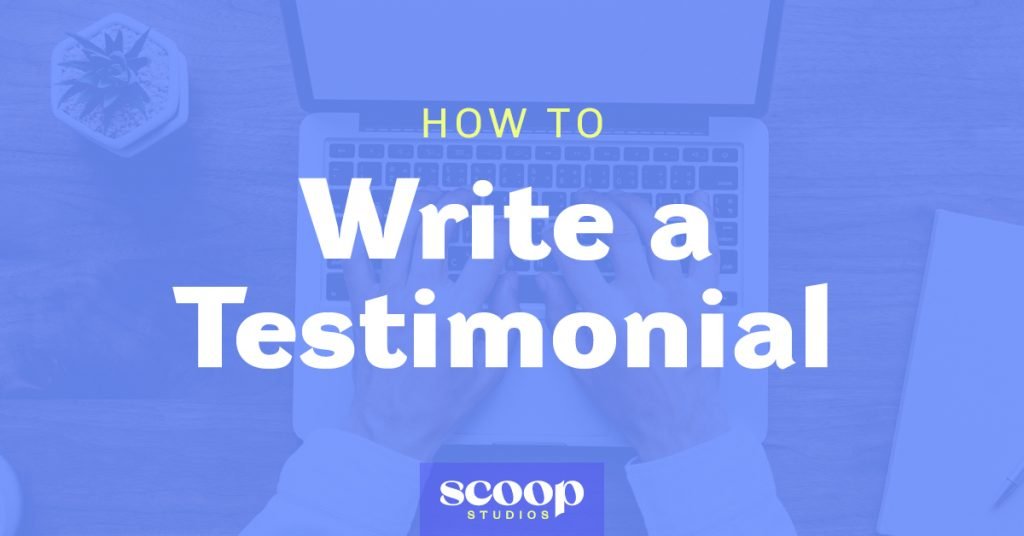 Sharing the testimonials of your happy customers is a must for your sales and marketing efforts, but not all testimonials are created equal. The key is learning how to write a testimonial that inspires potential customers to take action.
When it comes to your testimonials, you want to start by ensuring you're taking the time to identify the best possible customers to feature. Once those customers say yes, you want to ensure you're crafting compelling testimonials.
That starts by understanding that a testimonial needs to serve a specific purpose in your marketing. Your testimonial needs to pack a punch and avoid talking about non-tangible things such as "The Scoop team was nice to work with."
Nice. Meh. Totally uninspired. Saying we're "nice" (which for the record we are) is fine as part of a bigger story, but it doesn't stand alone or exactly make you want to hire us right this second. After all, you want your content marketing agency to be more than "nice," and you're likely looking for qualities that are aligned with your business, such as strategic or results-oriented.
Here are three steps to write a testimonial that supports your sales and marketing efforts in a way that drives results.
1. Write the Testimonial for Your Customer
If you want a testimonial that gets results, you definitely don't want to ask your customer to write a few lines about their experience with your product or service. Instead, you want to either have the customer answer some specific questions or interview them to collect the information and then write the testimonial for them to approve.
Using this approach, you'll end up with a testimonial that's right on the mark, while making the process of providing a testimonial so much easier for your customers.
Keep in mind that writing a testimonial for your customer is an accepted practice — and if you get them to approve it — it's all on the up and up.
2. Have Clear Outcomes in Mind for Testimonial Content
When you're writing a testimonial, start with the end in mind. An outstanding testimonial that captures the imagination of your audience should speak to both potential objections and the probable outcomes of using the product or service.
Get clear on what the top three to five objections that people have before purchasing from you. Understanding what hesitations they may have can help you position your testimonials so that they can eliminate them. Objections may be everything from the cost to trust to quality to timing, and for every objection, you should aim to have testimonials that put these concerns to rest.
You also want to speak to results in your testimonials. No matter what it is you sell, you want to be able to create a clear "after" picture for your customers of what their business or life will be like once they purchase from you. As humans, we want the question answered: "What's in it for me?" so we love nothing more than a transformation story.
Here's an example of a testimonial from our case study client Curaytor about how they used our content in their Facebook ads:
When working to include results in your testimonials, aim to include measurable results, such as time saved, money made, or other numbers. Being specific about what someone achieved will always be more believable than generic results.
3. Keep Your Testimonial Short
The average person has an attention span of about eight seconds (which is one second shorter than a goldfish), so when writing a testimonial, you need to keep it short. Aim for one to two punchy paragraphs maximum.
If you have a more detailed version of the customer's story, you can turn it into a case study.
Keep in mind that testimonials should be written in the voice of your customer and conversational in tone. Avoid using jargon, industry speak or trying to be too clever. Clear and simple is the way to go with your testimonials.
Make the most of your testimonials by writing content that connects with your potential customers and makes them want to buy from you. If you need help with creating compelling testimonials or case studies for your business, we can help.
Click here to learn more about our case studies and testimonial services.