How Curaytor Generated 75 Leads With Customer Case Studies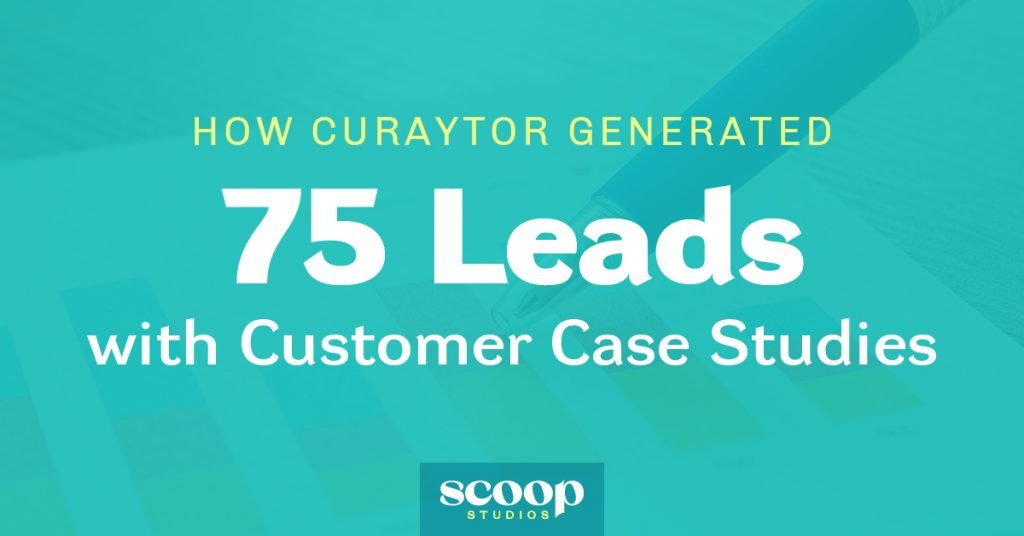 As part of my new series on the blog, we're sharing success stories from my clients.
This is the story of our client Steve Smith, the head of marketing at Curaytor, a digital marketing and sales platform that's currently one of Inc.'s 500 Fastest Growing Companies in America.
As a marketing and sales company, Curaytor already knew exactly how important content marketing was in supporting their business goals. The marketing team had been using a freelance writer to draft promotional content pieces but wanted to take their content in a new direction.
As Steve explains, "We wanted to get more case studies out there and create content that not only showed the power of our platform but would share strategy with our audience as well. Plus, we knew that stronger customer stories would help our bottom of funnel marketing and our overall growth strategy."
That's where Scoop came in to help generate leads from customer case studies. 
Searching for "The One"
While Steve knew this new strategy was worth exploring, he and his team didn't have the time or cycles to take the case study program.
"Our team could interview our clients and write the case studies, but it just wasn't going to be an efficient use of our time. I wanted to find an outside resource that could create the same, if not better, quality of content we could and allow us to focus on our core marketing programs."
Steve started the search for someone to handle their case study program, and after a few weeks of reviewing a variety of choices that he wasn't enthusiastic about, he discovered Scoop Studios.
"We're very picky about who we work with, and we kept finding options that weren't up to our standards. When I found the Scoop Studios' website, I was immediately impressed. I made the decision right then that we were either going to work with someone of this caliber, or we weren't going to do it at all."
Steve got in touch with the Scoop team, and from there, things moved quickly.
"The content samples Maggie sent were impressive, and when I had my consult call with her we clicked right away. There was a real compatibility between our companies as Scoop's approach and business philosophy is much like how we do things at Curaytor. I knew it was a fit immediately."
Stories That Deliver Results
Once Steve and our team began working together, he immediately felt like a weight had been lifted as they generated leads from customer case studies.
"I don't have to think about this stuff because Scoop handles it all. When it comes to editing, I'm particular and I rarely — if ever — have to provide the Scoop team with feedback. They provide high-quality work that reads well and highlights precisely what we're looking for. They go the extra mile by providing me options with a short and a long version of the case study. Those options have helped us write some of the ad copy we run with the testimonials. Having these options is one of the greatest aspects of what the Scoop team has done for us as we're able to share our customer stories in a variety of formats."
Most importantly, the customer stories the Scoop team has been writing for Curaytor have produced tangible results.
"In the last six months, from the Facebook ads that we've run using the case study content Scoop produced for us, we've gotten 2000 unique visitors to our site. Of those 2000 people, 600 have gone to the about page, the sales page, and/or the testimonial page. And from there, we've booked 75 appointments. That's just one example of how we've used this content to drive growth and support our sales process."
While the team at Curaytor is thrilled with the results they've had so far from using their testimonials, there are other benefits of working with Scoop that they didn't expect.
"We see how happy our clients are when they see themselves profiled. We want our clients to be put on a pedestal and look like the rockstars they are because they do great work. They're flattered when we ask them to be profiled and to have the opportunity for their stories to be told. It's an added perk that contributes to our customer retention."
Having worked with us for over a year, Steve looks forward to continuing to partner with the team on new projects that'll help support Curaytor's content marketing and business objectives.
"My experience working with the Scoop team has been completely top-notch from beginning to end. I occasionally hear back from clients after they've been interviewed, and they always remark that speaking to someone from Scoop was easy and painless. What I find most impressive is that I feel comfortable asking the team at Scoop to talk to our Curaytor community as a representative of our company. They've taken the mantle and have really lived up to our expectations every single time."
Ready to generate leads from customer case studies? The Scoop team can help with our case study writing services.