Ten Ideas for Repurposing Content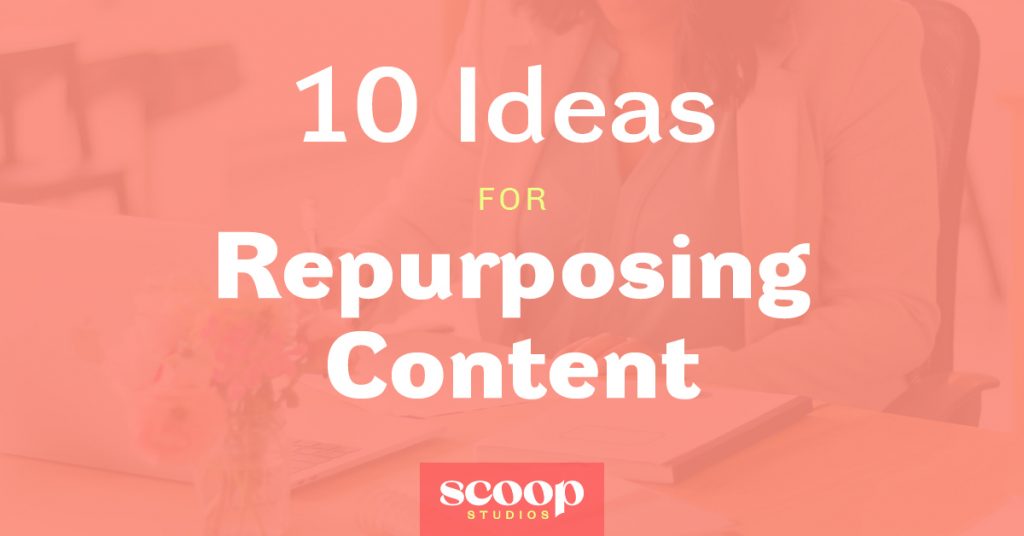 After a year of companies needing to scale back and cut costs, it's no surprise that many are feeling challenged by producing quality content with less resources.
In fact, according to the 2021 B2B Content Marketing Benchmarks, Budgets and and Trends Report, 17% of companies surveyed had to downsize their content marketing team in 2020, and 35% of companies don't have a dedicated resource for content marketing.
In an effort to maintain consistent content production, companies are looking for solutions to make the most of the time they do have earmarked for content production. That means exploring new options they may not have considered before — like repurposing content.
When creating your content strategy, instead of looking at what you need to create, why not start by looking at how you can repurpose what you already have?
Here are 10 ideas for how to repurpose your content, along key considerations for getting more out of your content.
Benefits of Repurposing Content
Repurposing content can have many benefits, but hands down the biggest is saving both time and money.

It's no secret that creating net new content is time consuming — from researching, to writing to editing to publishing — quality content takes time. So why not make the most of that time that was already invested and get more out of your existing content?
If you're looking to scale up your content production, it's also much easier when you aren't completely starting from scratch. Producing a higher volume of content on a weekly or monthly basis is much more feasible when you're doing a mix of creating new content and repurposing older content.
A common goal of any content strategy is to boost your website traffic and to help make that happen your content production needs to happen on a consistent basis. Repurposing content gives you an opportunity to reach an audience who may not have seen your content previously, or potentially re-engage people who may have stopped following what your company is up to — especially if you're repurposing content that you know performed well previously.
Everyone has different platforms where they prefer to consume content, so by casting the net a little wider and sharing existing content in places you may not have previously, you have the opportunity to reach new audiences.
What to Consider When Choosing Which Content to Repurpose
Not all of your old content will be a good fit for repurposing. Whether a topic that's outdated or the information doesn't work as well in a format other than the one it's in, it's important to be discerning when choosing what to repurpose.

The best place to start when figuring out what to repurpose is with data. By understanding what's performed well and what may have underperformed across your website, social media, email and other platforms, you'll be able to best identify where your opportunities are.

That will give you a list of potential options for content repurposing, the next step will be to look at each piece with a critical eye and ask some key questions including:
Is it evergreen?
The term evergreen refers to content that doesn't expire. The topics are always relevant, regardless of what is happening in your industry,
Is it relevant?
Is this a topic that people in your audience is still interested in or was it more a fleeting moment in time that has now passed?
Is it timely?
What's everyone in your industry talking about today? What are the latest trends? While there's no rule book saying all your content needs to be focused on whatever the latest buzz is, you do need to make sure your timing makes sense.
Can you put a fresh spin on it?
Readers aren't usually interested in a rehash of the same old topics, so if there's a compelling piece of content you'd like to reuse, you're going to need to find a fresh take. In the world of content production, you can often find hundreds or even thousands on one particular subject, so consider what perspective can you inject to give it new life, or a fresh new format.
Ideas for Repurposing Your Content
Now that you've started compiling your options for what content to repurpose, the next step is how to do it.
Let's look at some options to consider.
Turn Long Form Content into a Short Series
Long form content is usually 2000 words or more, like blog posts and ebooks. Consider how these items can be cut down into smaller, more bite-sized pieces that can be shared over a period of time.

Whether you break the content out into shorter blog posts, multiple social media posts or create a series of quick videos, long form content is ideal for repurposing since you already have so much to work with.
Create Infographics
Humans are highly visual creatures, so instead of sharing your messaging or telling a story through words, consider how you can visually represent the data you want to convey. Infographics are an ideal way to paint a picture quickly, and are highly shareable.
Give Old Posts a New Spin
Often the content you create is for informational purposes — whether it's talking about the latest and greatest trends in your industry or sharing some insight on how your company can help. Your competitors are likely doing the same thing, so you want to look for ways to make your content different.

When looking at repurposing content, think about how you can add some new perspective on old topics. What does your business do differently, or how do you take a different approach from others in your industry? By using these common topics but adding a new approach, you can make your content stand out from the crowd.
Create Social Media Posts
Having a social media presence is expected these days, and with multiple platforms to choose from, you can reach a broad audience. While you may have initially shared a piece of content on social media, there are other ways to use that same content to get attention.
Choose smaller paragraphs or quotes from your content, create an accompanying graphic, and post on multiple platforms. (Just be sure to use the format and images that are sized for that platform.)
Develop an Email Sequence
Email marketing is one of the easiest ways to make a direct connection with your audience, but in order for it to be impactful, you need to share content that interests the people receiving it. You want them to open the email, and then take action from downloading a whitepaper to reaching out to your sales team.
Similar to the idea of using long form content to create a series, you can take just about any piece of content and break it down into an email series.

In that email series, you can share company and industry information, create a series of how-to emails or share resources that your audience may find valuable. The goal is to build a relationship, and ideally, get them to the next step in their journey with your brand.
Write an Ebook or Whitepaper
Writing an ebook or whitepaper is actually a lot simpler than one might think — especially if you already have plenty of content to work with.
Start by grouping together your content by theme, and then build the story from there. For example, let's say you're a tech company and you have a series on your blog that covers different aspects of disaster recovery. These posts could be built out with each one being a chapter in your ebook or section in your whitepaper.
Create a Video or Podcast Series
Podcasts and video content are incredibly popular, and for good reason. Everyone processes information differently, and for some people, having a visual or audible option for consuming their content is much more impactful.
Instead of creating a blog post that explains "how-to" for one of your products, why not show them step-by-step how to do it?
Or maybe you have some blog posts dealing with hot topics for your industry that are getting a lot of attention. Take those topics and create a podcast or video series where you can expand on what has already been shared and inject some new perspectives.
Webinars or Live Tutorials
Webinars and live tutorials are another way of repurposing content that allows you to take what you have and present it in a new format while engaging with your audience in real time. The content you're repurposing can be reworked into an agenda and accompanying presentation.
Webinars and live tutorials give you a chance to share your content through face-to-face interaction with your audience and give them a first hand experience with your company.
Build Guides or Checklists
Guides and checklists are some of the most coveted content you can offer your audience as they are often things that can be used over and over. By repurposing content you already have, you can distill it down to just the key ideas or steps they need to know.
They can also be a tipping point for potential customers deciding if they want to work with your company, as they can quickly identify where they need help. For example, if your company specializes in something like cloud migration, a checklist or guide taking them through the steps to determine if it's time to migrate can help them decide that they want to reach out and learn more about their options.
Write Case Studies
One of the most impactful things for customers to see is how your products or services help real people. Case studies walk readers through the problem your customer was facing, the challenges they had to overcome, and the solutions your business was able to provide.
Press releases, blog posts, customer testimonials and any other content can be used to build case studies. Most importantly though, if you do want to write a case study and plan to name your customer and share results, you should get their permission to spotlight them.
Repurposing Content for Maximum Impact
While repurposing content can represent big savings for both time and money, there are many other positive offshoots of taking the time to assess your current content library.

Even if you discover that you don't have a high volume of content that is suitable for repurposing, understanding how to capitalize on what you do have, as well as using the data to glean what content gets your company noticed, can allow you to build a stronger content strategy overall.
Need help with your content marketing strategy or your content production for 2021? The Scoop team can help.

Click here to learn more about how we can work together.