Why You Should Hire an Expert to Write Your Case Studies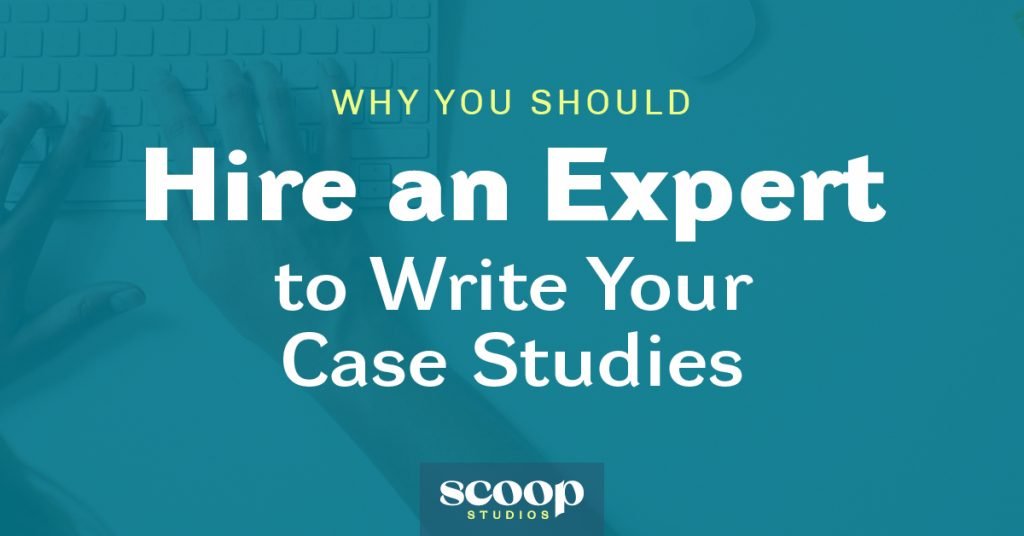 Case studies are a mainstay of B2B marketing and sales — and with good reason. They're one of the most effective tools B2B companies have when it comes to generating leads. This is why you may want to hire an expert to write your case studies, as they can help you create the type of case study that convinces and converts.
You can't afford to squander the opportunity to create a compelling case study when it's so essential to your lead generation and sales efforts.
A professional case study writer offers your company a level of expertise that ensures your final product is completely on point and supports your business goals. And if you're not sure about getting help writing case studies, just know there are options to work with your process and budget as well as experts that will take the time to understand your unique needs.
Here's why you should hire expert case study writers to support your customer success story program:
Access to Insider Case Study Knowledge
Crafting a B2B case study is about way more than doing an interview and writing up what you learn in that discussion. The real power of case studies lies in the nuances. That's why you want to have someone with the know-how needed to identify the right customers and write a case study that inspires action.
How? A good place to start is by having a strategic plan in place to find the best possible customers to feature in a case study. If you're going to focus your efforts on case studies, the qualifications for featuring a customer needs to be strategic, and not just that the customer will say yes.
A pro case study creator can help you work with your sales or other internal teams to determine your top candidates for case studies, or design systems to encourage your frontline staff to be your eyes and ears when it comes to case studies.
In my experience, they can help you navigate the challenges that can come up while working to get a yes from your most ideal case study candidates. They can offer up a creative approach or alternatives to help find a way to get that customer to be referenced as one of your clients and ideally for them to share their results.
Benefit From Expert Case Study Interview Skills
The quality of your final case study is completely dependent on the interview process — which is why working with a professional who's done 100s of interviews can be incredibly helpful.
Why? Interviews can be challenging to maneuver at times, so having someone do the interview who's able to ask the right questions, pursue lines of questioning as they come up, and find a thread for the story, is powerful.
Also, having a third party conduct interviews on your behalf can signal to your customers that this is a safe space for them to share their experiences, and position the case study process as being something the company takes very seriously. Over the course of my career, while conducting interviews as a "third party" for my clients, I've been surprised at what their customers will tell me about the company, their experiences and how excited they are to participate in the process.
Writing and Packaging Your Case Study Content
It's not uncommon for companies to hire writers to work on a variety of projects from blogging to whitepapers, so why wouldn't you hire writers for case studies? You typically hire writers so you can get the project completed in a timely manner, and they have the expertise required to create the best possible end product.
Why should case studies be any different? I may be hopelessly biased as a writer that specializes in case studies, but I'd argue that if there's one type of content that's important to hand off to a pro, it's case studies.
A well-crafted case study can help generate leads, close sales and support your overall sales and marketing. You can't afford to have this be a piece of content where you want to have an inexperienced writer on your team throw something together to get it done.
Plus, an experienced case study writer can help you structure your case studies so they can be used in multiple ways.
The classic two-page case study in PDF format is only one way to package the information, and you want to look for ways to get as much mileage out of each case study as possible. For clients, we typically work with them to understand what their goals are and then create case study content that serves those needs — whether it be creating ad copy or a blog post or an infographic — as part of the finished product.
Making Case Studies a Priority While Saving Time
Many times when I talk to marketing pros, I hear that they know they need case studies but that they just can't find the time to work on them. Case studies typically are only one priority on a very long list of things that are all important.
Even if you do get around to working on case studies and have the necessary skills to work on them, you may find that the process of identifying customers, scheduling the interview, doing the interview, and then writing the case study, is simply too time-consuming.
Our client Curaytor had this exact challenge when they came to us.  Steve Smith from Curaytor explains, "We knew that our team could interview our clients and write the case studies, but it just wasn't going to be an efficient use of our time. I wanted to find an outside resource that could create the same, if not better, quality of content we could, and allow us to focus on our core marketing programs."
By working with a case study writing service, you'll be able to save valuable time and make sure the final product is exactly what you need. If you're not sure if a case study writer is right for your business, you can learn more here.