B2B Case Studies: The Essential Guide (2022 Edition)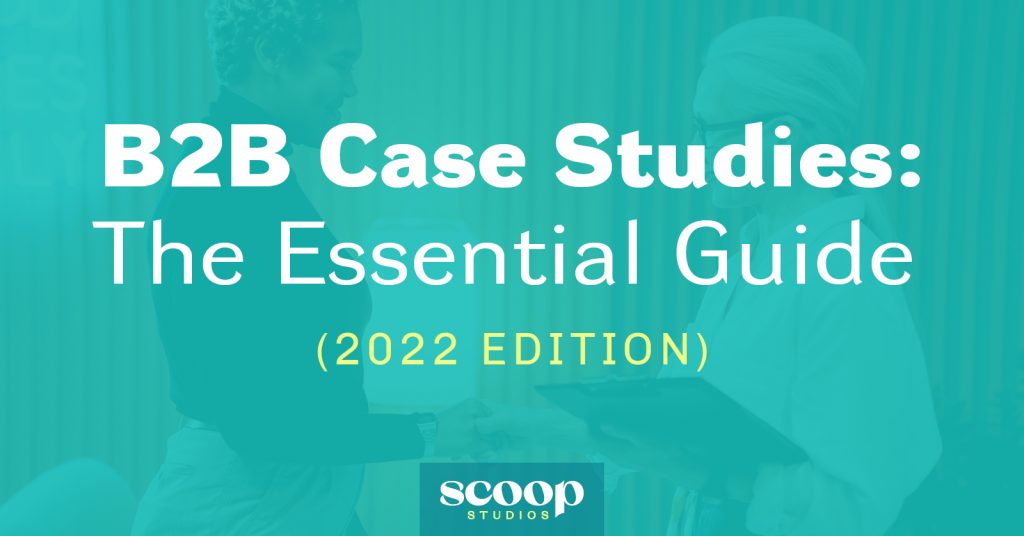 Of all the assets and collateral a company can create as part of its content marketing strategy, B2B case studies are one that often gets left off the list. 
B2B case studies offer potential customers a compelling reason to work with your company. By painting a picture of what kind of results can be achieved when you work together, you're giving them confidence that your company is the best choice for their needs.
However, like everything else you incorporate into your marketing strategy, there is a degree of skill involved in creating B2B case studies that support your company's goals. 
Here's an overview of everything you need to know about creating case studies, including writing, interviews and how you can leverage them in your marketing.
Why You Need B2B Case Studies
The benefits of B2B case studies are many, and understanding how to create the best B2B case studies possible means you'll be making a solid investment.
According to the 2022 Content Marketing Institute annual report, 39% of marketers say case studies have produced the best results from their marketing in the past year.
One of the things that makes B2B case studies so effective is that they provide real-world examples of your company working with clients and the kind of results that are possible while working with your company.
While many companies leverage testimonials as part of their content strategy, a testimonial is only providing a fraction of the story. With case studies, you can provide a level of detail that enables B2B buyers to make a connection with the challenges they're currently facing along with the solutions and results your offering provides. 
Plus, in a world where attention spans are short a case study can bring your product or service to life. A story helps make what you do and your clients' results much more memorable.
What Makes a Great B2B Case Study?
If you want your B2B case studies to have maximum impact, you'll need to have a game plan for what should be covered. Whether your marketing team can create them internally or you need to outsource them, all great case studies should have common elements. 
Before you dive into scheduling customer interviews or drafting any B2B case studies, you'll need to know exactly who you're targeting. Who is the intended audience? What marketing or sales campaigns or goals are you trying to support? 
Your goal with case studies is to show how your company can meet their needs and move them towards achieving their goals. For a B2B business, your sales process can take months (or even years) so case studies become a valuable tool to be used in the middle and bottom of your funnel. (Your sales reps will thank you as it gives them not just a talking point, but an asset they can use to address concerns, build trust and much, much more.)

Too many times I've seen clients try to rush to get a case study done without having a plan for who the case study is targeting and how exactly it will be used. Both of those impact how you approach customer invites, interviews and even crafting the story.

Keep in mind that like any great story, your B2B case studies need a clear angle and hook. Case studies are about more than just showing the features and benefits of your products and services, they serve as a real-life example of your product or service in action.

You want to be able to proactively address your customer concerns in your business case study. To do that, think about each client you want to highlight and what makes their particular interaction with your company unique and how that is helpful to your potential customer in their decision-making process.
Using real-life stories is part of what makes B2B case studies so effective. So if you find yourself with a client who isn't comfortable with being named publicly, they may not be the best option for your case studies. 
Also, consider how the B2B case study is being written — who's the star of this story? If it's your company, then it's time to shift gears. The most effective B2B case studies focus on the experience of the client, not your company. You're trying to get readers to see themselves in the story, so center the focus on the clients you're highlighting. 
Finally, be very conscious about the language choices included in your B2B case studies.
Nobody wants to read complex, jargon-laden content. B2B case studies should be simple and strategic so your reader can skim the story can grab on to the key points.
Getting Your Clients to Participate in Your B2B Case Studies
When it comes to the process of creating B2B case studies, getting clients to participate is often a challenge.

We often hear from clients that they're worried about being intrusive or like they're asking for a favor. However, the reality is you can create amazing B2B case studies that your clients are happy to participate in simply by starting with the right people.

Start by putting together a list of which clients you think would make a compelling story. Get your whole team involved (especially your sales team and customer support) by soliciting their feedback, as it they'll be able to provide insight into the client's journey. Look for clients who have had recent wins, or who you know who had strong working relationships with the team. 
Also, asking clients to participate in your B2B case studies is about timing. You know your clients, you know their peak times throughout the year, you know if they have a big project in progress, or if they've hit a bump along the way. Carefully consider whether now is actually a good time for them.
As part of creating a process for B2B case studies, you'll need to figure out the "how" of it all — how will the client participate?

This is something that needs to be nailed down before you start asking because the last thing you want is to have them say yes and then have the process be disorganized.
People are more likely to say yes if they understand exactly what is being asked of them, so when you make the request, share all of the details. Break down the steps and explain how the case study will be used.
Finally, don't be afraid to just ASK. You may be surprised by who agrees to participate, but you'll never know unless you actually ask. Over the years I've been surprised by the case studies we've been able to secure for clients, so don't assume a client will be an immediate no.
Creating a Process for B2B Case Studies
If you want to include B2B cases studies as an ongoing item in your marketing plan, you need to have a solid process in place so everything runs smoothly.
When we work with clients on their case study programs, we start by creating a series of templates to help ensure consistency across the entire process.

Interview Requests
The first template you'll want to create is one for contacting clients to ask them if they'd be willing to participate in a B2B case study. .
Your request should include:
Why you're asking them to participate.
How you're planning on using the case study.
How long the interview will take.
Any steps they need to take once they say yes such as booking an interview time at their convenience.
Your goal here is to make this as easy and painless as possible for them, so you want your request to be clear so it's an easy yes.

Interview Guide
The first template you'll want to work on is an interview guide. While having an off-the-cuff conversation can be fun, it won't necessarily help you gather the details you need to write your B2B case studies.
By an interview guide that includes a core set of questions, you'll have a starting point that can be customized before each interview. Your questions can focus on four key areas:
The challenge that brought them to you.
The solutions your company provided.
The results/outcome achieved.
Their overall experience with your company.
Your questions should be laid out in a way that leads the person your interviewing to answer questions that tell the story for you. If you have specific solutions or results you want to discuss, you can add those on a case-by-case basis. 

Keep in mind, that not every customer success story needs to feature a remarkable story of business growth or an increase in revenue. Stories that speak to improved customer experience or other customer concerns can be equally as effective as part of your customer case studies.

Case Study Template
The second template you should have on hand is one for creating case studies. While each story will have its own flavor, B2B case studies generally follow the same flow each time, so this is something you can map out ahead of time.
When putting together your B2B case study template, here are key elements to include:
A headline: Your headline should be impactful to draw readers in and highlight results. 
A brief summary: This is a short paragraph that gives a distilled version of the story. Not every case study includes a summary, but it can be handy for various marketing materials.  
The backstory:  This includes who is the company being highlighted, what do they do, and how long they've worked with you.  
The problem: What challenge were they trying to address when they came to your company? What made this problem so challenging or frustrating? Did they explore any other options for solutions before coming to you? 
The solution: This is where you show exactly what your company is capable of. Why did they choose to work with you? What made you different from your competition? What did you do to help them find the needed solution?
The results: This is where your company gets to shine and show all the ways you were able to help. Whenever possible use real numbers (e.g. increased organic website traffic by 17%) and concrete results. 
A call to action: B2B case studies are generally used for marketing, so now's the time to market! Provide readers with a step to take next — such join your email list, booking a demo or consult call or signing up for a free trial. 
Using Your B2B Case Studies
Once you've started decided to make the investment and create B2B case studies, it's time to put them to work.
While the obvious choice is usually to put your B2B case studies on your website or social media, there are many other creative ways to leverage case studies for your marketing effectively.
Social proof can be incredibly compelling — even more so than a discount on a product or a service.

Your potential clients love to hear about the experience of existing clients, so finding ways to use the B2B case studies consistently gives them the opportunity to see how your company can help them.
Some different ways you can use your B2B case studies include:
On your website.
On social media.
In your email marketing.
In your sales presentations.
As part of your marketing collateral.
During speaking engagements.
Repurposing into video content.
In ad campaigns.
To enhance a whitepaper.
Repurposing into blog posts.
Creating infographics.
As a complete content marketing campaign.
Once case studies have been produced, they should be leveraged consistently as part of your content marketing strategy and as part of the buying process.
Outsourcing Your B2B Case Studies
At this point, you may be wondering "should I hire an expert to write my B2B case studies?". 
The short answer is: it depends!
You want your B2B case studies to be as effective as possible, so if you're investing the time, money and resources, you want to use a skilled writer. Many times, B2B case studies are not prioritized as part of content production, so depending on what resources you already have in-house, outsourcing case study production may be the best option.
If you do have someone on your internal team who has the skills to manage the process, interview customers and write your case study, whether they have the time for the project is another story.

Creating B2B cases studies involves more than asking questions and writing up what the customer said. An experienced B2B case study creator understands how to finesse the interview process, and lead the conversation in a way that draws out the desired information. 
B2B case study creators (like Team Scoop) will guide you in selecting your candidates, drafting interview questions, scheduling interviews, and helping move the process forward through each step. Best of all, they can take care of the entire process acting as the point person for the project, leaving your other resources free to work on other things.
Plus, a great case study creator should also work with you to create a plan for how you're going to use your B2B case studies. Strong B2B case studies can help with everything from closing sales to generating leads, so getting some expert advice on how to integrate them into your marketing can ensure you're able to maximize your investment.
Leverage B2B Case Studies for Your Marketing Strategy
There's no denying B2B case studies have the potential to add tremendous value to your overall marketing strategy.
Whether you choose to complete them in-house or outsource to a team of experts, the goal should be to create a process that can be easily replicated and integrated into your ongoing marketing activities.
B2B case studies as a marketing asset won't be going away any time soon, so if they aren't already part of your strategy, create a plan that will allow you to start leveraging these in your company sooner rather than later.
Are you looking for help creating and executing B2B case studies?
Scoop Studios can help. Learn more and book a consult.